Restoring consumer confidence in the safety of indoor eating environments is one of the top challenges restaurants face until COVID-19 vaccinations can fully cycle through society. Only by creating this level of confidence can restaurants hope to achieve previous levels of business and profitability as they look to serve their patrons.
So the question becomes, how can restaurants confidently and affordably help their patrons to feel at ease about safely dining indoors once again?
We'd like to introduce you to an exciting new technology from Middleby called Bluezone, and we'd like to walk you through what it is and why it works so incredibly well.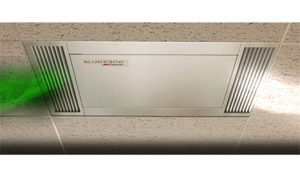 Bluezone Viral Kill Units are air-purifying systems that use the precise balance of UV-enhanced oxidation to chemically destroy airborne contaminants, such as odors, mold, bacteria and virus. Bluezone doesn't rely on mechanical filtration; instead, Bluezone scientists have maximized the flow rates and residence time through the Bluezone unit to achieve kill rates between 99.9% and 99.9995% depending on the contaminant and unit type. These capabilities have led to the Food and Drug Administration, the Department of Homeland Security, and the Center for Disease Control to recommend the use of UV technology to limit the airborne transmission of COVID-19.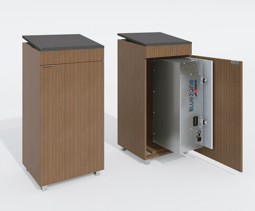 Furthermore, there's no need for expensive HVAC modifications with Bluezone; and whereas HVAC systems cycle on and off throughout the day, Bluezone can operate 24/7/365 with no interruption in the mitigation of volatile organic compounds.
Bluezone technology is also extremely flexible in the ways in which it can be deployed. It is available as an easy-to-install in-ceiling unit, and it is also available in tower, credenza or podium type units available in a number of finishes.
Reserve Your Bluezone Viral Kill Unit Today
Bluezone is currently taking pre-orders for their Viral Kill Units. To add your operation to the list, please start by answer a few simple questions below.