Let's face it. Daily life for most everyone seems to get more hectic by the day. Extremely packed schedules and work/family responsibilities often leave little time to consider, "What's for dinner?"
This reality has given rise to a number of convenience-based trends that cater to the need for quick and easy meal options. From home delivery meal kit services such as Blue Apron, to fully-prepared home delivery meal services such as Freshly, convenience is the common theme. And as consumer choices continue to be driven on an increasing basis by ease and convenience, the concept of mobile ordering of food has caught fire in the foodservice industry.
More and more establishments than ever before are offering options for ordering either online or through their branded app, and customers are finding this to be a great alternative to dining in (particularly given the sudden urgency of "social distancing"). Whether it's picking up the food order on the way home from the office, or having it picked up and delivered by Uber Eats, Grub Hub, or DoorDash, many Americans are buying into the convenience of mobile ordering in a big way.
But is it really possible for food service operators to capitalize on the growth in mobile ordering without sacrificing food quality? With the customer experience still being critical to future business even when the food is ordered for pickup or delivery, it's an extremely important consideration. The short answer is, yes. While mobile ordering will likely continue to be a huge growth component in the foodservice industry, it is not necessarily a given that food quality and service have to suffer as this trend takes the industry by storm.
Mobile Ordering Trends
From Starbucks to Taco Bell, national chains have popularized the concept of mobile ordering. Customers not only enjoy the convenience of mobile ordering but also generally tend to spend more per purchase when they utilize this method. In fact, it has been shown that approximately twenty percent more is spent on the average takeout or delivery order compared to dine-in.
And the mobile ordering trend continues to be on the rise. Since 2014, digital ordering has grown a staggering 300% faster than dine-in. In general, takeout or delivery orders happen on average at least one time a week per household. These online purchases are also over fifty dollars in thirty-five percent of cases. So if a food service establishment is looking to increase sales and draw in new customers, mobile ordering cannot be ignored. For developing chains and independent restaurant owners alike, mobile ordering is definitely a hot new trend that is worth investigating, as there is no sign of it slowing down anytime soon.
Potential Challenges
While mobile ordering looks to be the future of the foodservice industry, there are at the same time some potential challenges of which operators should be aware before jumping on the bandwagon. One of the main problems that arise for restaurants looking to integrate mobile ordering into their business is the loss of control over third-party service. Through services like UberEats or GrubHub, as soon as the food leaves the store, a certain amount of control over the customer experience is lost. This system could potentially have a negative impact on your customer's experience, or you may end up sacrificing quality at some point in the overall process. The logistics of how to store orders and make pickup easy is another potential challenge for restaurants looking to integrate mobile ordering into their business. However, through the utilization of the PUC system by Carter-Hoffmann, a number of those potential adverse outcomes can be avoided.
How Pick Up Cabinets Can Help Your Restaurant Utilize Mobile Ordering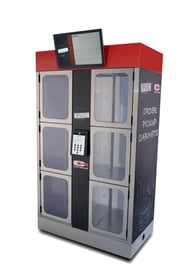 Carter-Hoffman offers restaurants a perfect avenue to enter mobile ordering through their PUC Self-Serve Automation Technology. PUC offers busy restaurants the latest technology in mobile ordering and pickup service. This revolutionary system provides restaurants with all of the necessary technology, from ordering online to mobile app compatibility. This system is available with either heated or ambient holding "lockers", all of which can be configured to your specific foodservice operation. Customers or delivery services can then access the orders from these secure compartments using a pin or QR code, allowing for speedy pick for all customers. Overall, the PUC System will improve the security, speed of service, labor cost, and food quality/safety, all while allowing your restaurant to finally break into the mobile ordering game.
Ready to improve your restaurant's pickup process? Contact us at Pace Reps to learn more about the PUC system and we'll provide a free foodservice equipment assessment to help get your orders pickup-ready.