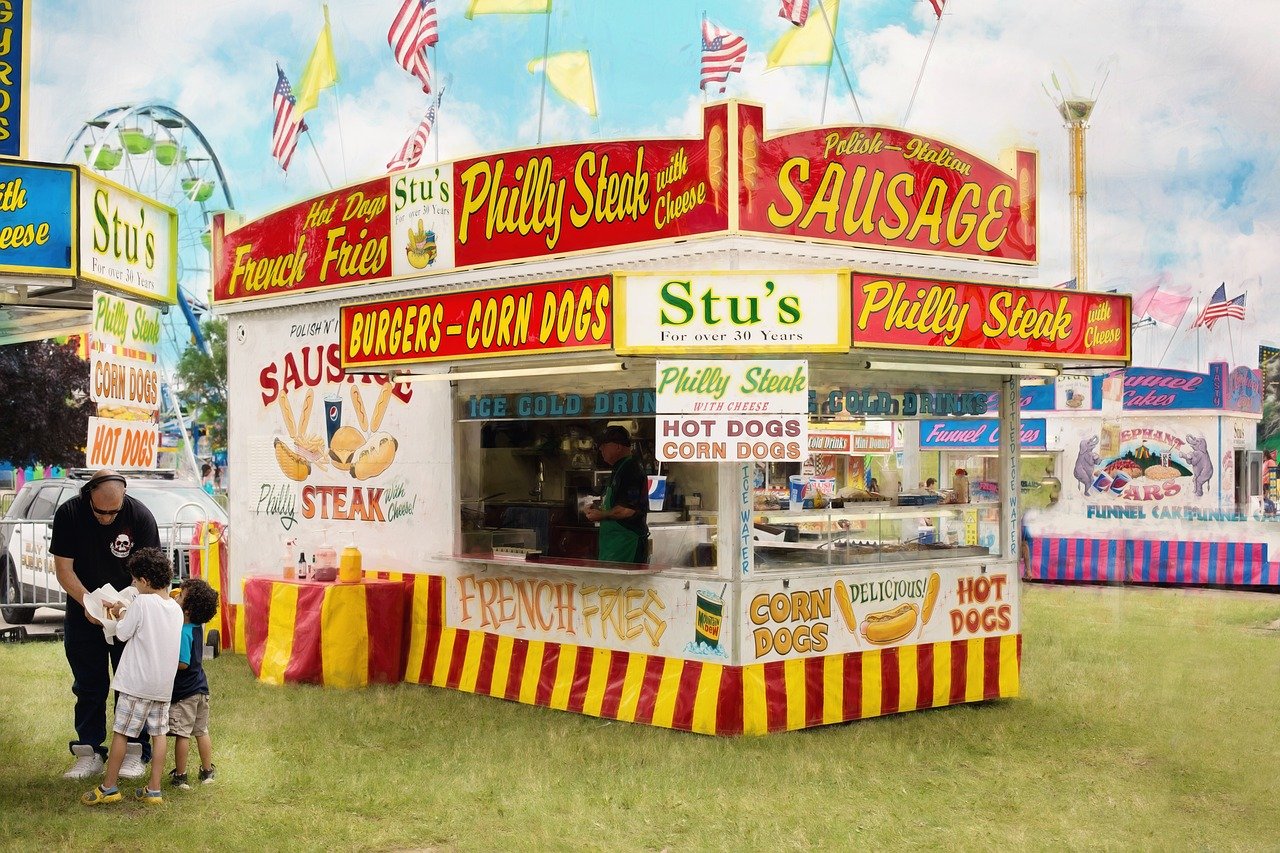 Adding everyone's favorite foods to your concession stand, special event, or other foodservice operation could mean a big spike in sales. Between fall fairs and the start of football and basketball seasons, customers love indulging in hot dogs, hamburgers, funnel cakes, popcorn, and cold drinks, and with the right equipment, it's easier to provide those satisfying choices.
Some popular concession options you might consider adding to your autumn food operation include:
• Hot Dogs: Don't forget to warm or toast the buns and offer a variety of condiments.
• Popcorn: An easy item to add to your menu, and great when offered with butter as an optional topping.
• Funnel Cakes: A street fair favorite, topped with powdered sugar.
• Soft Pretzels: These look great on display, and taste great with mustard or cheese sauce.
• French Fries: A classic snack or side dish, and you can top them with chili or cheese sauce (or both) for even more variety.
• Nachos: Another easy option with lots of potential variations.
• Cold Drinks: Beverages can be very profitable, and will definitely attract customers on hot days.
Are you looking for equipment to sell concessions at a sports event, hosting a fall festival, or raising money for your organization at a street fair? Here are a few tools that could help boost your sales this year:
Hot Dog Equipment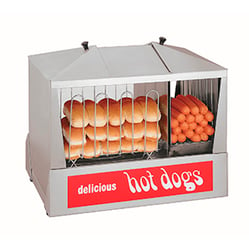 Hot dog steamers are a great investment if you're wanting the ability to crank out lots of hot dogs and also generate sales with an appealing display. Available from both APW Wyott and Star Manufacturing, these hot dog steamers cook hot dogs and also warm buns while letting customers see everything with a tempered glass window. With an easy-to-clean, non-exposed heating source and an angled shield that protects buns from condensation, these machines produce great hot dogs and are sure to catch customers' attention.
Popcorn Equipment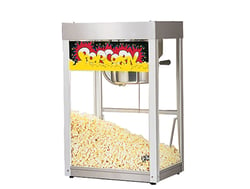 If you're wanting to offer a variety of fall favorites at your next event, check out the selection of concession equipment from Star Manufacturing. From poppers that pop fresh popcorn and tempt crowds from their clear merchandising display, to pumps for dispensing hot butter to top it all off, Star offers a full range of popcorn equipment for every concessions need. They even offer a quality popping corn as well.
Nacho Equipment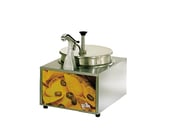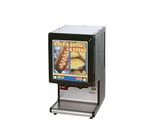 Who doesn't love warm crispy nacho chips covered with delicious warm cheese and other toppings? Carter-Hoffmann offers 3 different sizes of Chip Warmers, from 20 gallon to 44 gallon chip capacities. These Chip Warmers feature an exclusive heat duct and baffle system that completely eliminates any potential for hot spots, cold spots and burnt chips. And with their unique first in/first out design, they insure your customers are getting the freshest chips possible at all times. Just add a Star Manufacturing pump type warm cheese dispenser and you're in business! Or for high volume nacho chip needs, as well as for greater portion control, Star Manufacturing also offers heated peristaltic cheese dispensers which dispense cheese from preformed cheese pouches.
Countertop Cooking Equipment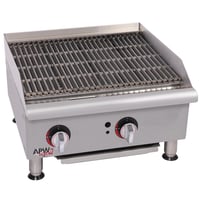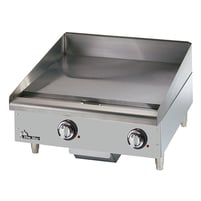 When the heat is on to produce an abundance of fresh hamburgers, countertop griddles and charbroilers from APW Wyott and Star Manufacturing are up to the challenge. Star's Ultra-Max griddles are some of the most rugged in the industry and feature 1" thick griddle plates as well as embedded precision thermostats for reliability and excellent recovery under heavy loads.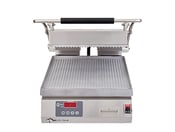 Hot sandwiches are always a popular concessions staple when offered, and it's easy to provide anything from grilled cheese sandwiches to quesadillas with the right sandwich grills. Featuring aluminum or cast iron platens with either smooth or grooved cooking surfaces, Star Manufacturing sandwich grills can meet the specific cooking needs of any concessions operation.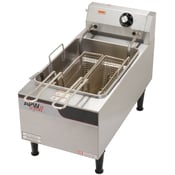 And whether you're wanting to fry your own fresh nacho chips, some crispy-soft funnel cakes, or everybody's favorite – French fries -- APW Wyott and Star Manufacturing both offer a wide variety of open fryers for floor or countertop use. These fryers offer maximum power and portability for consistently delicious fried foods – every time.
Ventless Exhaust Hoods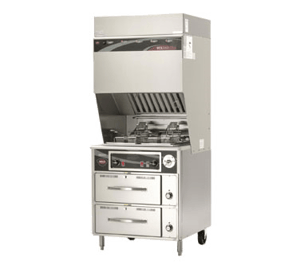 Wells Manufacturing offers a variety of ventless exhaust hoods, which are perfect for small spaces or temporary operations like concession stands. With their Universal Ventless Hoods, you can safely use many different types of electric cooking equipment underneath the hood, from hot plates to fryers to combi ovens. This portable solution is a great option if you're setting up at a fair or stadium, where your concession stand may be small and might not have built-in outside venting.
Thinking about what to offer at your summer concession stand?
Recreation Management magazine recommends analyzing the profitability, inventory needs, and skills required for each item at your stand. While it can be tempting to offer as many products as possible to boost sales, they recommend keeping it simple. Offering more items complicates your inventory management and requires more skills from your employees. Instead, you can offer different sizes of each item and a variety of toppings to make your menu more enticing.
If you're thinking about adding new items to your summer concession stand, let the team at Pace Reps help you find the right equipment and answer any questions you might have. You can even visit our test kitchen to try out our impressive range of top-quality cooking equipment. Contact us today and get started with your summer sales.