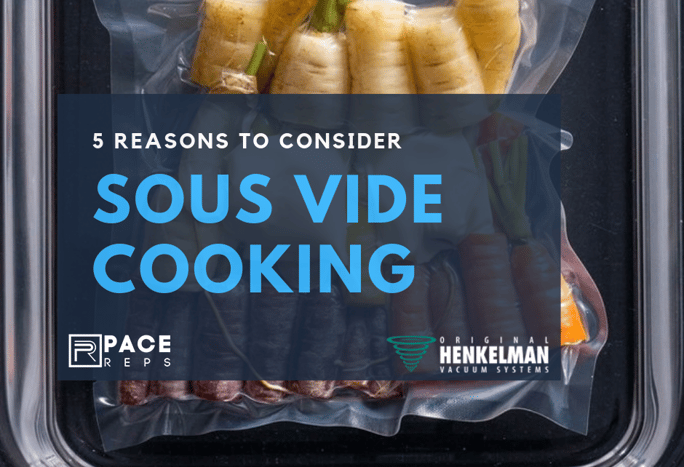 Sous vide cooking is one of the most effective methods for delivering high-quality results as efficiently as possible. The process is simple. Just vacuum-seal foods into bags, drop them into temperature-controlled water, and wait.

The term sous vide is French for "under vacuum." It began as a popular method in the 1970s, though the principles of sous vide cooking began much earlier. Its present-day pioneer was scientist and food manufacturer, Bruno Goussault, who researched the effects of temperature on different foods. Around the same time, the commonly-called father of sous vide cooking, Georges Pralus, discovered that cooking foie gras using these methods improved texture, helped it retain moisture, and resulted in better flavors.

Who can argue with duck liver?

In reality, though, there are many benefits to implementing the sous vide cooking process in commercial kitchens across Georgia, Alabama, the Florida Panhandle, and western Tennessee. As we undergo a culinary renaissance of sorts, chef-driven concepts are looking to employ some of these classic techniques.

Sous vide cooking provides high quality.

Sous vide cooking seals in moisture and flavor during the cooking process resulting in more tender dishes, filled with aroma and more flavorful than what can be achieved using other cooking methods. With sous vide, every product gets cooked at the precise temperature and time for perfection.

Save time with sous vide.

One of the great aspects of sous vide is once you seal food into a bag and drop the bag into a hot water bath, the cooking pretty much takes care of itself. This means chefs can focus on other parts of a dish or service, and for many center-of-the-plate options, the cooking can complete overnight.
In addition, sous vide provides a way to par cook certain items and then quickly finish them off when the actual order comes in. For example, imagine if you had a bag of fully-cooked sous vide chicken wings that needed only to be flash fried and sauced to be ready for service, or if you had a medium rare sous vide steak that needed only a quick minute on the grill or charbroiler in order to be seared and cooked to perfection for the customer? This would save time while simultaneously enhancing the quality of the finished product.

Sous vide is a completely natural process.

One of the great parts about sous vide is the 100-percent natural aspect. Sous vide is just immersing vacuum-sealed foods in temperature-controlled water. No frying. No cooking in oil. Just slow, precise cooking.

Sous vide can save money.

When you cook at precise temperatures and times, the chances of overcooking food are drastically decreased. Think about that expensive filet. Instead of forgetting about it during a dinnertime rush, it can be cooked over a long period of time without overcooking. This helps operations protect their investments and reduce food waste.
What do you need for sous vide?
Typically, a sous vide immersion unit or a properly-equipped combi oven are essential to creating the proper sous vide cooking environment. But you also can't have an effective sous vide setup without a quality vacuum sealer, especially one built with sous vide cooking in mind. With the right model of vacuum packer, sous vide is easy, efficient, and effective.

Henkelman is the global leader in vacuum sealing units designed for sous vide. Schedule a one-on-one assessment to learn more about how these systems can help in your commercial kitchen, or check out our Henkelman Video Library.