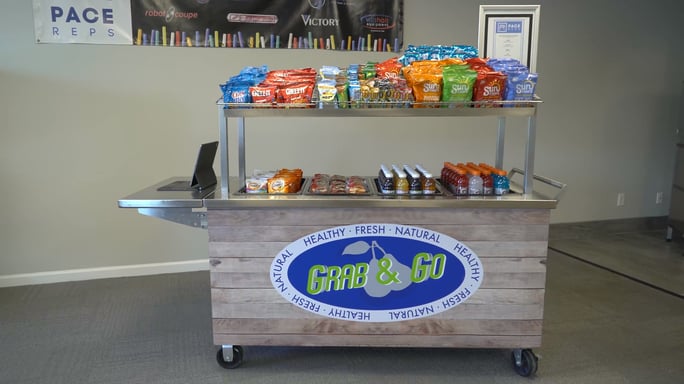 As schools open back up, finding innovative ways to reduce long lines and break up large crowds during breakfast and lunch looks a little different. Some schools are utilizing classrooms for meals and bringing options directly to students while others are splitting lunch crowds into smaller groups and alternating time periods for eating. Many campuses are finding success by offering pre-packaged grab and go options, which is helping to offset the strain and stress of dealing with certain COVID-related concerns.

Post pandemic, it's expected that these alternatives to serving will stick around due to their inherent convenience and reliability. With mobile carts helping to optimize lunch periods, it's no surprise that the grab-and-go concept will play an ever-growing role in how eating at school evolves over the next several years.
How LTI's Mobile Food Cart Is Changing The Grab & Go Scene
Compared to other grab-and-go carts, LTI's carts are built to make the idea of grab-and-go service as simple as possible. Built to provide schools with durability, each cart can be constructed of either stainless steel or fiberglass to stand up to wear and tear. This also makes them incredibly easy to clean so that everyone can depend on a hygienic and safe means of delivery.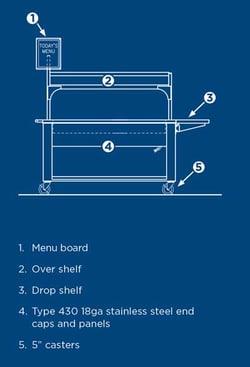 LTI's new SpecLine Grab 'N Go Lite Cart features a magnetic body that allows for seamless interchange and display of a wide variety of attractive graphics, including the use of school colors and logos if desired. Daily menus can be printed on 8-1/2" x 11" paper and easily inserted into the included menu board so that no matter what pre-packaged options you're serving, everyone can easily read and select their meal of choice.
These mobile carts come in a variety of sizes and capacities so that you can serve up to 250 snacks without slowing down. This allows staff to move from classroom to hallway to foyers and courtyards, continuing to deliver nutritious options with ease.
The cart body features open storage on one side to provide for backup quantities of additional food and supplies. But even fully loaded, these carts are effortless to maneuver thanks to 5" casters and a fully welded push handle. You'll also find a standard cart fold-up shelf located on one end that can be used as a cashier station.
Advantages of LTI's Mobile Food Cart
There are, of course, many benefits that come with following the latest foodservice trends. However, none of the trends are making serving this easy. With LTI's mobile food carts, delivering meals and snacks throughout the day is beyond easy. It's efficient, encourages students to participate in consuming what the school is serving, and it minimizes the time students and faculty spend waiting to get to the front of a line in order to pick out what they want.
Additionally, advantages of utilizing the mobile cart include:
Limiting crowds
Handling high-volume without increasing serving times
Access to more food options
Reduced labor needs
Easily accessibility
Temperature flexibility, thanks to hot pads and cold packs for items that require a certain degree of temperature maintenance
LTI's newest mobile food cart is a winning solution for regaining a sense of normalcy while simultaneously taking safety measures into consideration during these challenging times. Additionally, these mobile carts allow students to grab what they want without the long waits often found in cafeterias, increasing the likelihood that they'll take the time to eat what your school's serving. So whether it be snacks or meals, food carts are a great way to take full advantage of the grab-and-go trend.
Pace Reps is committed to being your resource for school cafeteria equipment in Georgia, Alabama, the Florida panhandle, and Eastern Tennessee. Need help getting a plan in place to make sure your students are served their nutritious meals quickly every day? We can help!