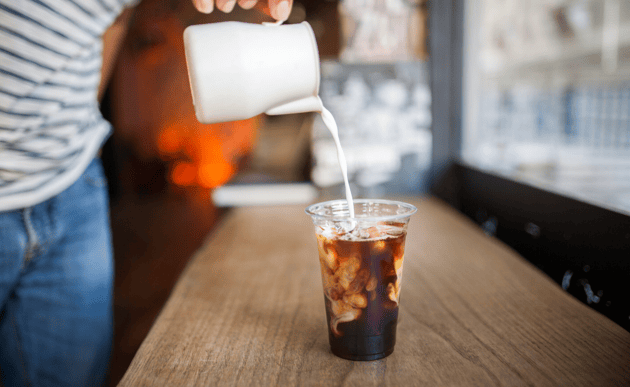 Coffee has a way of bringing people together. Whether it be friends meeting for a drink, a first date meet and greet, or a routine stop on the way to work, it's the perfect taste for any day. In recent years, a coffee-based drink known as a nitro cold brew has become quite popular. It's served at the biggest and most well-known coffee chains, as well as made its way into local coffee hotspots all across the nation. So, what is a nitro cold brew exactly?

Breaking Down the Nitro Cold Brew Process
Essentially, a nitro cold brew is made when cold brew coffee is infused with nitrogen gas. By utilizing a pressurized valve and a complex series of hoses, keg connectors, and faucets, baristas are able to craft one of the most popular drinks in recent years. Not only is the process extensive, but making the cold brew itself takes 12-24 hours. In some ways, it's similar to the process breweries go through when crafting their own beer. Part of what makes the drink so popular is the effort and process that goes into making each drink.
Popularity by the Numbers
What's shocking about the nitro cold brew trend is that the price hasn't deterred coffee lovers from making it a routine favorite. In most locations, it often costs $5-$6 for the drink. From a business perspective, the start-up costs can be a little pricey and can add up to $1500 to ensure you have the right equipment. However, with customers paying top dollar for the delicious brew, it pays for itself quite quickly.
Statistics
Numbers show that local cafés move through 1 keg per week when it comes to cold brew. If you pursued buying and utilizing your own equipment, you'd need to make roughly 32 kegs in order to offset the equipment costs, so that would give you 32 weeks more or less before you started seeing that profitable increase.
Additionally, you'd be able to add quality control to the products you serve, provide more consistent service when it comes to crafting your own brew, and also show off the talent and taste behind your business operation. You could call it your own personal flavor in the nitro cold brew world.
Making it Worth Your Time
As long as coffee has been around, it's easy to say there will always be a market for it. Whether you're running a coffeehouse, expanding into grocery chains and convenience markets, or any commercial setting, you always want to ensure you're making a profit. The estimated cost of a keg delivery, which is often what brewers keep cold brew in, runs approximately $95 per keg. For a 12oz. serving that's roughly $1.78.
When you're having cold brew delivered to your operation, that delivery fee can add up when combined with the cost of cups, lids, and other waste. Specialized equipment such as the U-Line Nitro-Infused Cold Coffee Dispenser allows you to cut back on the delivery costs by almost $100 and increase profitability up by 24% or higher.
Serving creamy nitrogen-infused cold-brew coffee on demand has never been easier using the U-Line's Nitrogen-Infused Cold Coffee Dispenser featuring JoeTap technology. Thousands of micro nitrogen bubbles are infused as the coffee dispenses, which creates a slightly sweet taste and smoother texture. All it requires is for you to fill the keg with your favorite cold coffee or tea. The dispenser can hold two 2.5, 3, or 5 gallon coffee kegs and a nitrogen tank.
Now, should you decide you'd prefer a more profitable route, you can always make your own cold brew. With the right equipment, marketing, and being transparent with your consumers, you'll find benefits around every corner. Increasing profitability through locally brewing your coffee can often bring in new consumers looking to try the local blend. Take away that delivery charge, lower the cost of processing and serving, and you could see up to a 79% increase in profitability.
When you're ready to make the leap towards serving nitro cold brew on a more profitable level, contact us to learn more. We'll provide a free beverage equipment assessment and direct you towards equipment that could assist in making your service easier to operate.