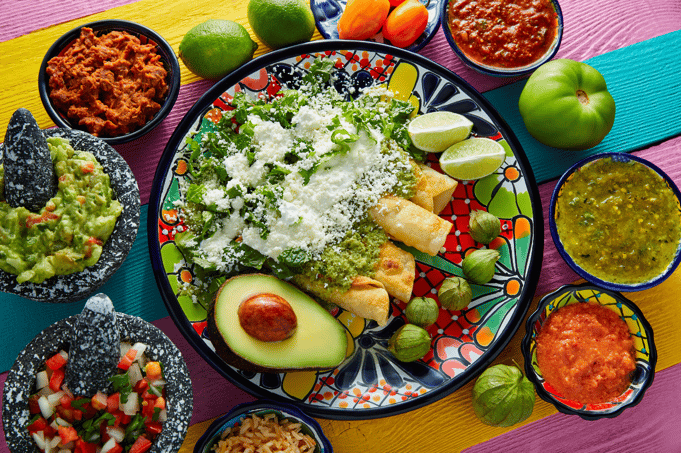 It almost goes without saying that having a great menu featuring quality food, along with a comfortable and enjoyable dining atmosphere, are keys to success in any restaurant establishment, and the most successful Mexican style restaurants know that formula exceptionally well.
Most folks can name their favorite Mexican style restaurants and can tell you all about their favorite menu items, from the warm chips and salsa/queso to sizzling steak and shrimp fajitas to carne asada. The list goes on.
Having a great menu, quality food and a memorable atmosphere are the things that keep customers coming back, and the hope is, of course, these factors will create an ever-increasing demand for everything your establishment has to offer.
Each returning customer brings along with him or her the expectation that THIS time will be just as good as the most recent time they dined at your establishment; therefore, the ability to provide a consistent experience for each guest is indispensable. But how does one achieve that objective of consistency in the face of growing customer demand and labor costs – without sacrificing quality and negatively impacting the customer experience?
Having the right equipment to prepare, cook, hold, and serve foods is paramount to the ability to drive operational profitability in any foodservice operation. In many cases, having just the right piece of equipment to provide consistent, quality results with minimal labor can make all the difference to overall profitability and continued success.
Below, we're highlighting just a few of our favorite items of equipment that support Mexican cuisine. Each of these units can help improve day-to-day business and assist in preparing and serving meals for big holidays like Cinco de Mayo, or even just the weekly Taco Tuesday!
ROLLING TORTILLA/FLATBREAD WARMERS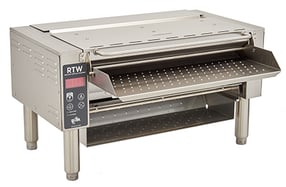 There are a number of different ways to manually warm tortillas, and they all have two things in common: all are extremely time-consuming and require a significant labor investment. Star Manufacturing has introduced a truly ingenious solution to this challenge with its revolutionary Rolling Tortilla Warmers. The concept is simple: insert tortillas into the front slot, where they are automatically passed over a superheated roller and discharged back out the front of the unit for immediate use. The RTW is relatively compact and can even be wall-mounted in order to preserve precious counter space. Despite its compact size, these RTW units can easily heat up to 900 (RTW14) or 1350 (RTW19) 6-inch tortillas per hour! Tortillas and other flatbreads come out hot, soft, and pliable for excellent results.
HEATED PERISTALTIC CHEESE DISPENSER
To say that hot cheese is an "indispensable" staple in many Mexican dishes would not be an overstatement of fact. Nor would it be inaccurate to say that cheese is an important and significant investment on the part of any Mexican restaurant owner. Given these facts, anything that might help to preserve the quality of the hot cheese, while also maximizing its yield could certainly contribute to an establishment's bottom line.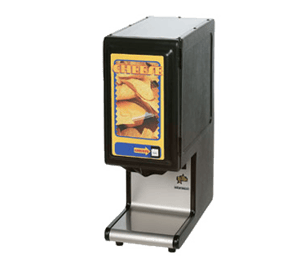 That's where Heated Peristaltic Cheese Dispensers from Star Manufacturing come in. Utilizing a specialized heating and pumping system, these heated dispensers make serving hot, gooey cheese easy and efficient. The operator can precisely manage and control the delivery of the exact desired amount of cheese, improving consistency while at the same time optimizing cheese quality and significantly extending product yield.
A bonus feature that led to this system making our list is its ability to heat cheese inside while keeping a cool external temperature. Not only is this a great safety feature, but it also keeps cheese at the perfect temperature for easy, consistent dispensing.
VEGETABLE PREP FOOD PROCESSORS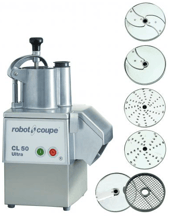 Keeping with the theme of maximizing product consistency while minimizing labor, we would be remiss to not recommend a vegetable prep type food process to any Mexican type restaurant establishment.
With the ability to grate tens of pounds of cheese in just five minutes, quickly slice up cases of taco lettuce or peppers and onions for fajitas, or easily dice up a caseload of tomatoes for pico de gallo, Robot Coupe's Ultra Tex-Mex is the appliance you didn't know you needed. Talk about an incredible labor saver!
The speed and consistency of cut provided by a commercial food processor simply cannot be duplicated by hand. And with magnetic safety switches and attached pushers featured standard on these machines, there is no safer food processor on the market today.
STICK BLENDERS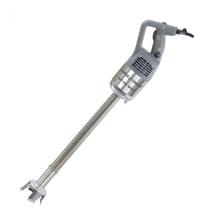 Another time-consuming chore that cannot be ignored is the processing of refried beans, and insuring a smooth, high quality result can be a real challenge. Robot Coupe Stick Blenders provide a safe, efficient, and cost-effective solution to this challenge. Processing large batches of salsa is also a breeze using these powerful units. Need to whip up a fresh batch of agua fresca for your guests? Say no more - Robot Coupe Stick Mixers are always up to the task!
Designed for comfort and safety, Robot Coupe's Stick Blenders power through any processing challenge. Using stainless steel, the over molded blade is made to optimize speed and perfect the quality of cut. This mixer is also designed to easily be taken apart to make cleaning and maintenance simple.
BOWL-TYPE FOOD PROCESSORS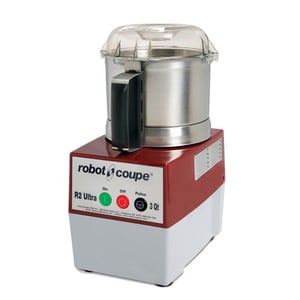 There's nothing better than freshly-made guacamole – especially when the ingredients are blended together smoothly and evenly. The very same can be said for a signature mole sauce.
Need to simultaneously chop and blend ingredients for your favorite ceviche recipe? Make it happen in SECONDS with a bowl type food processor!
With a see-through lid and a port to add ingredients while the machine is running, Robot Coupe has perfected the process of mixing and blending recipe ingredients to perfection. Monitor your hard work as you add ingredients to the mix. These Vertical Cutter Mixers are fitted with a leakproof seal to ensure you don't waste ingredients or make too much of a mess, and the easy assembly makes every process quick as well as manageable. Bowl-type food processors are available in a number of different sizes to handle virtually any volume requirements.
CHIP WARMERS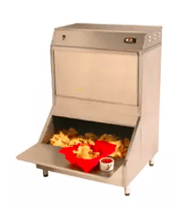 Consumers love freshly warmed tortilla chips. It's essentially the introduction to every good meal when it comes to Mexican cuisine. Serving up a basket of anything less than warm, crispy chips can set the wrong tone for the meal ahead.

To avoid this issue entirely and guarantee great chips every time, Carter-Hoffmann's chip warmers are designed to deliver hot, crispy chips throughout your serving period by operating on a first-in, first-out rotation. Chips are loaded in the top door, giving them time to warm up while you serve the warmest chips from the bottom door.

This service from the bottom door, along with an exclusive chip ramp inside reduces chip breakage. Crumbs drop through the grates on the ramp and collect in a crumb pan below so that you don't serve them to your guests (NO ONE likes being served a basket full of chip crumbs!)

Mexican restaurants around the country sing the praises of the performance of Carter-Hoffmann Chip Warmers. Available in 3 sizes to fit any volume need.

FINISHING CABINETS/CHEESE MELTERS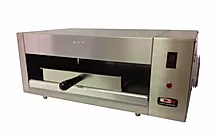 Whether it's a popular appetizer such as queso fundido or an enchilada entrée, Carter Hoffmann's Heat-Xpress Finishing Cabinets quickly add that perfect final touch for each dish, whether it's merely melting a cheese topping or adding an extra touch of heat.
The energy-saving quartz heaters in each cabinet are designed to idle at 50% power usage when not actively being used, but simply placing product inside the finishing chamber boosts power to 100% for quick finishing needs.
Prepare delicious Mexican cuisine with these solutions from Star, Robot Coupe, and Carter-Hoffmann.
We're here to help you set up your operation with quality equipment for your restaurant or facility. We'll help show you the top-rated equipment from Star, Robot Coupe, and Carter-Hoffmann and what equipment could work best for your kitchen. Schedule a free assessment with us today to learn more.