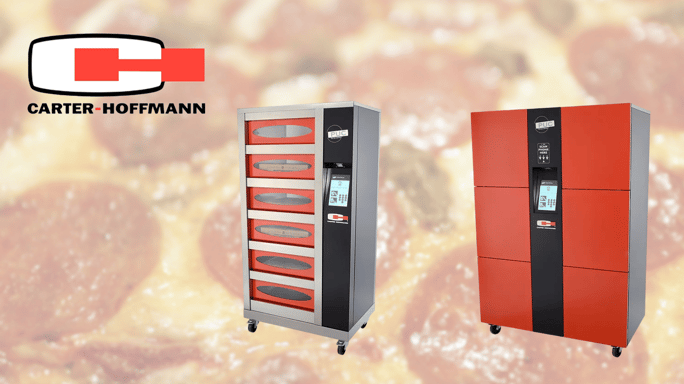 Foodservice has spent the last 14 months focused on delivery and to-go options to keep up with local and state mandates as well as to offer safe solutions to consumers taking precautions when out in public.

While things are easing towards a sense of normalcy, the demand for automation and digital comfort are still taking priority when it comes to whether or not customers order from a restaurant. The reality is that the trend towards pick-up solutions continues to increase and is very likely here to stay.
What Makes Pick Up Cabinets Necessary
Digital consumption is no longer just for ordering from platforms like Amazon. It's taken the foodservice industry by storm and shows no signs of slowing down. In the next 5 years, there's expected to be a 60% increase in online ordering compared to the 39.1% increase shown in Q1 of 2021. What this means for your foodservice operation is that it's time to embrace the digital age and advance alongside technology-based solutions.
Carter-Hoffmann's Pick-up Cabinets (PUCs) provide you with a reliable solution to order pick-up that brings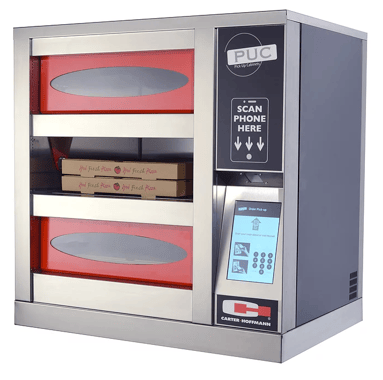 consumers the convenience they've come to expect. PUCs are easy to integrate with POS systems so that information from an order is automatically sent to a unit and the food order can be automatically placed inside when it's ready. This allows you to streamline the "no-contact" carry-out system that consumers are often seeking, while at the same time optimizing workflow.
Pick-up cabinets can help to dramatically improve speed of service, enhance customers' pick-up experience, cut back on labor costs, and safely allows you to provide menu favorites to consumers on the go.
Advantages Of Pick Up Cabinets
Customers love the convenience of ordering online, and many of them prefer to pick up their own food orders so as to spare themselves the expense of third party delivery. But showing up to pick up an order, only to have to stand in line with other customers in order to actually RECEIVE the order, partially defeats the purpose of having ordered online. PUC cabinets allow the consumer to skip the line and head directly to the cabinet to quickly pick up their order and go. And operators love the PUC as well because it allows them to load orders into the cabinet as they're ready and then move on to taking care of other tasks and other customers.
Even as COVID-19 shows signs of waning in many parts of the country, consumers will likely continue to have a heightened awareness of cleanliness and sanitization as they're out in public. The PUC cabinet addresses this concern as well. An antimicrobial coating on the outside of the cabinet provides safety for multi-person use without trapping harmful bacteria and microbes on the surface throughout the day.
In addition to providing safety for users, the PUC cabinet is secure, allowing consumers to unlock the compartment holding their order with a QR code that's sent automatically to their mobile phone. Scanning this QR code as a means of unlocking the compartment holding their food order provides for a completely touch-free and sanitary experience, eliminating any concerns about cross-contamination. And since the locker door opens automatically, there's no confusion as to exactly where the order is located.
In addition to providing secure accessibility, automation technology alerts customers when their order is ready and even sends pick-up reminders at regular time intervals.
PUC cabinets are available in either ambient or heated locker versions so that heated meals don't lose their quality and items that do not require heat (salads, sandwiches, etc.) are kept in good condition while holding. Large orders, or orders containing both hot and cold foods, can be assigned multiple pickup compartments if needed as well.
Carter-Hoffmann's PUC Cabinets are able to multi-connect, allowing you to expand with the mobile pickup trend and face minimal challenges. With an easy-to-use interface that provides connectivity, consumers can rely on delivery platforms to work seamlessly with foodservice operations for simple, safe, no-contact food pickup.
Are you ready for your foodservice business to meet the demand for automated take-out options? Pace Reps can help you get a plan in place!