It's not every day you can find someone – or something – that can deliver multiple tasks at the same time. It's not easy to find a unit that can provide a wide range of capabilities within the same space. And it's certainly not the norm to find a cooking system that will prepare food exactly the way you want it – every time.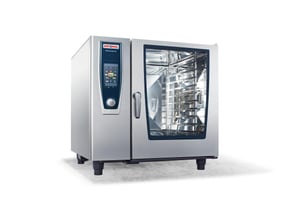 But then again, not every piece of commercial cooking equipment can do things like the SelfCookingCenter from RATIONAL, which is the only commercial oven that senses, detects, thinks, learns, and communicates with the people who operate it.

In fact, we're hesitant to even call it a combi oven, as the SelfCookingCenter is more like an intelligent cooking system than a combi. It begins with 40 years of research. Developed by chefs for chefs, RATIONAL's team of food scientists, physicists, and engineers collaborated to bring foodservice operators quality, efficiency, and cooking intelligence, and here's what it looks like:
Unlike typical combi ovens, the SelfCookingCenter allows operators to identify the size, temperature, and volume of food so the unit can automatically adjust the cooking environment to ensure high quality and consistency every time.


Looking for specific processes? How about these?
Steaming
Poaching
Baking
Roasting
Grilling
Rethermalizing
You Name It!!!
Just select the food on the control panel, select the desired result, and step away.
Come see the SelfCooking Center for yourself. Schedule some time to try this innovative unit out in our test kitchen.