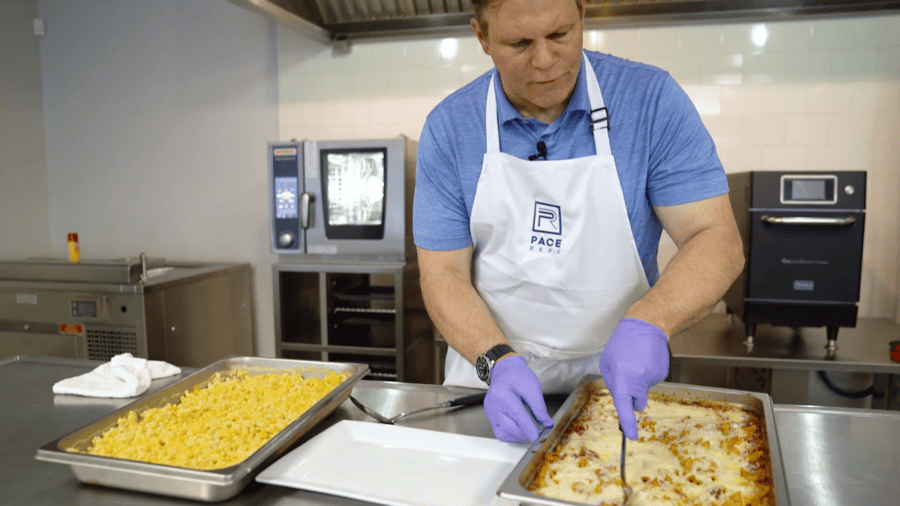 Pasta is a dish that people of all ages can come together and enjoy. From school-aged kids to seniors living in retirement communities -- and all ages in between -- everyone loves their favorite mac and cheese and pasta bake dishes.


In this video, Pace Reps' very own Matt Bryant took to the Pace Reps Test Kitchen to showcase just how incredibly easy it is to cook pasta in the sauce directly from a raw pasta state using the RATIONAL combi oven. By eliminating the need to pre-boil the pasta, this quick and easy process saves significantly on the time and labor needed to cook large batches of any sauce-based pasta dish.
Cooking Pasta in-the-Raw
Cooking raw pasta is a fast and efficient way for operators like school nutrition directors to deliver high-quality meals in a fraction of the time. With a RATIONAL Combi Oven, school cafeteria staff can simply mix in raw pasta right in the sauce and cook the entire dish without first needing to cook the pasta, whether it's mac and cheese or spaghetti and meat sauce.
Looking to go beyond the basics and expand school menus with a more global flair? Operators can also cook pasta in the combi oven and produce Asian noodles or ramen, pasta salads, casseroles, and more. No matter what the menu, a combi oven is one way to make life simpler for school kitchen staff.
Cooking with a RATIONAL Combi Oven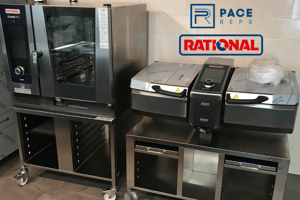 Whether it's baking, roasting, steaming, grilling, or simply rethermalizing foods, combi ovens are at the top of the heap when it comes to excellence in kitchen preparation of meals. This is the equivalent of fire and forget style cooking; once you have pressed 'start,' the oven can follow the temperature of the food and cooks evenly and efficiently for fast, large quantity food production.

The RATIONAL iCombiPro features iDensity Control, which helps to guarantee high-speed cooking while assuring even browning as well as ideal food colors and textures. Additionally, the patented iProductionManager assists the user in efficiently scheduling and executing the production of each day's menu.

After the food is served and it's time to clean, the patented iCareSystem makes cleaning and descaling of the iCombi Pro a cinch. Nine options for programming cater to your own special needs for depth of cleaning and elimination of limescale. With this onboard computer system, the unit will use only as much water and cleaning supplies as are required to get the job done. With this automatic cleaning taking as little as 12 minutes, the operator can focus on other kitchen tasks as the unit returns to a spotlessly clean state.
For all of your pasta making needs, the team at Pace Reps is here to assist. We're here to guide you in the selection and use of any type of commercial kitchen equipment that your foodservice operation may require. Give us a call – we're here to help!
Matt Bryant
Director of Chain Accounts / Partner
Check out this and more of our videos at Pace's Place to learn more!
If you're ready to take your pasta-making to the next level, reach out to us for a FREE foodservice equipment assessment.