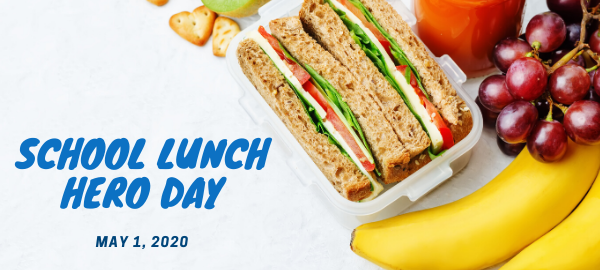 There's a lot to be said about how efficient a school lunchroom must operate on a normal school day when kids are in school. Between breakfasts, lunches, and after school programs, the lunchroom is always bustling with growing kids to feed and short time slots to feed everyone in line.

Fast forward to today, and school foodservice staff are faced with an array of new challenges following the coronavirus crisis. From student and staff safety, to meal preparation and sanitation, to newly-improvised ways to package foods for delivery and/or pickup, school foodservice professionals have had to adapt to new circumstances incredibly quickly, all while still providing nutritious meals each weekday to students who rely on these daily school meals.
Not only are foodservice staff tasked with providing healthy meals for America's students, but they also must adhere to strict nutritional standards, navigate student's food allergies, and offer service with a smile. That is why we'd like to celebrate and show our tremendous appreciation for school nutrition professionals. They are our true local heroes that help nourish and feed our kids each week.
Friday, May 1st is School Lunch Hero Day and there has never been a better time to celebrate and thank our school nutrition professionals for all of their hard work, and the amazing commitment they have to what they do. These incredible people provide a touchpoint for so many children and families, many of whom desperately need these meals as well as the emotional support of knowing their schools are there for them when they are most needed. "The school foodservice professionals we work with are some of the most dedicated and delightful people that we have the opportunity of working with. We know how hard they work and this day is in honor of all of those professionals who help keep our kids fed and healthy," says Charles Pace of Pace Reps.
Curious as to ways you can support your local school nutrition professionals? Have your kids make thank you cards and distribute them to the schools. Make signs, posters, or banners that can be hung around the school or on the fences surrounding the schools. You can also send a shout-out on social media or send your local heroes an email thanking them.
Take a look through the gallery below showcasing some of our local school lunch heroes from nearby counties!
Want to give a shout-out to your local lunch heroes? Give them a shout-out in the comments below. And if your school is in need of upgrades or modifications due to the current COVID-19 challenges, please reach out to us below to see how we can help.