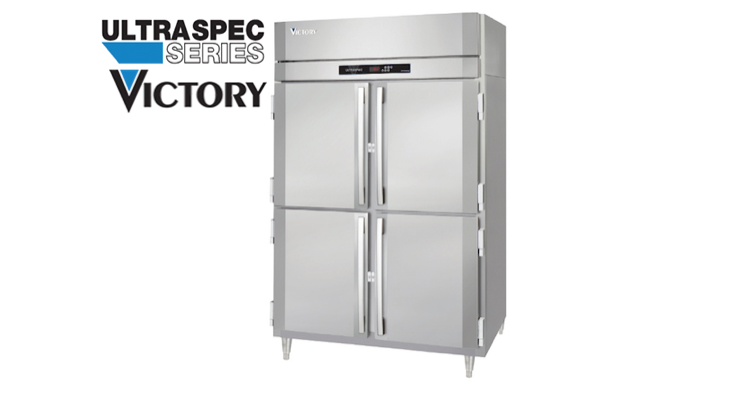 When it comes to foodservice in today's environment, it's important for units to be user-friendly, durable, and low maintenance. Labor shortages often demand this, as we want to make it as easy as possible for interchanging staff. Victory's UltraSpec Series commercial refrigeration takes this into consideration and more.
Here are just a few ways this series is different from the competition.
AESTHETICS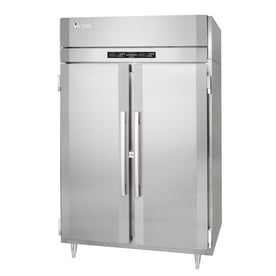 The UltraSpec Series of commercial refrigeration is designed to accommodate another current foodservice trend – front-of-the-house display kitchens. For any operation requiring refrigeration that equipment be in plain view, the Victory UltraSpec Series offers a sleek, attractive and modern design that is ideal for display kitchens where aesthetics are as important as functionality.

PERFORMANCE & DURABILITY
Victory knows that such equipment should be not only easy on the eye, but easy to use as well.
Victory's UltraSpec Series units are constructed of heavy gauge stainless steel and feature 2" foamed-in-place insulation for strength and energy efficiency. Stainless steel door liners and breaker strips provide additional durability where it's needed most, and both door hinges and handles carry a Lifetime Warranty. The Santoprene door gaskets carry an exclusive 2 year warranty as well (compare that to many refrigeration manufacturers who offer a 90-day door gasket warranty). Low profile handles are easy to grip and designed with heavy use in mind. All interior lighting in the cabinet is energy-efficient LED, providing up to 100,000 hours of dim-free and fade-free visibility.
THOUGHTFUL FEATURES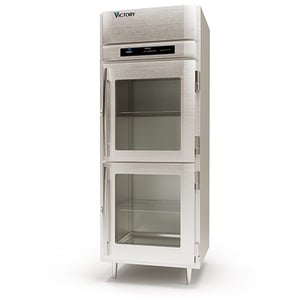 And while Victory's UltraSpec Series is certainly beautiful and durable, it's the little extras that go into every unit that really make a difference. Things like:
Energy-efficient two-speed fans that adjust to door openings to help keep product cold even with constant door openings
"SuperCool" mode that provides a "constant on" functionality to help pull down the temps of newly-loaded product more quickly
"Energy Saver" mode engages if doors have not been opened for 4 hours
Alarm indicators for "Door Open", "Power Failure", Clean Condensor Coil", etc.
One-touch defrost
Manager's Lock-out Feature prevents employees from changing settings
Magnetic proximity door switches activate interior lights, door alarm and energy saving mode without the use of dirt-catching plunger-type button switches.
Cam-Lift type hinges with 120-degree stay-open feature make cabinet loading and unloading easier

Flip-up front grill to facilitate condenser coil cleaning and maintenance.
SECURETEMP 1.0 - STANDARD ON EVERY UNIT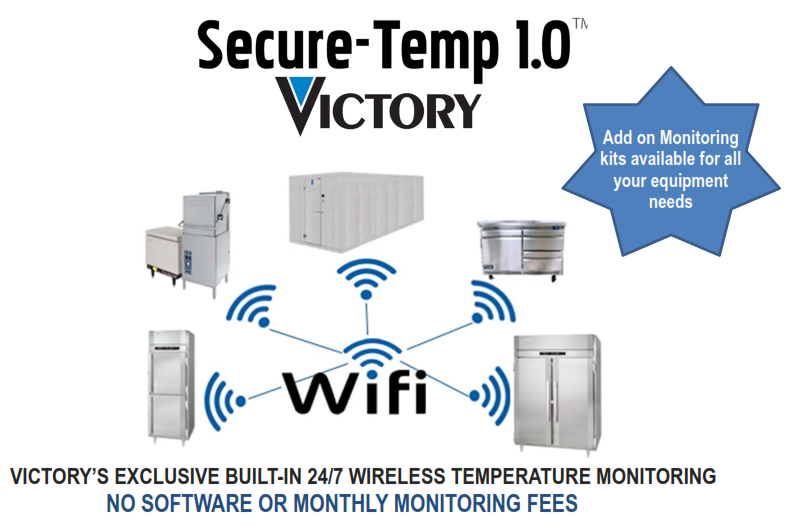 As if all of the above features weren't enough to set the UltraSpec Series apart from the rest of the field, Victory has gone a huge step farther by including its patented SecureTemp 1.0 Temperature Monitoring System as a standard feature on all units.
This system provides for constant wireless temperature monitoring and recording of cabinet temperatures at owner-selected intervals. SecureTemp 1.0 connects automatically through the facility's WiFi system and requires NO subscription and NO software. The system can provide the owner with alerts relating to power outages, cabinet failure, left-open doors and preventive maintenance via text or email. This free system helps to reduce operating costs and food loss while allowing for timely preventive maintenance.
Owners can even add up to 2 ADDITIONAL sensors to any Victory unit in order to provide the same monitoring for other kitchen equipment such as a walk-in cooler/freezer or dishmachine!
SERVICE & SUPPORT
Recognizing that its equipment is only as good as the support that is available behind it, Victory backs every unit with a 3 Year Parts & Labor Warranty as well as a 5 Year Compressor Warranty. With a nationwide service network of over 4800 servicers nationwide backed by a 24/7 service dispatch hot line, service support is always available as needed.
Additionally, all Victory units are provided with QR codes that can be scanned with a mobile device so that field technicians can easily access the specific operation manual, wiring diagram, troubleshooting tips and factory support for the unit on which they may be providing service.
Learn more about Victory. Schedule a free foodservice equipment assessment with us today.